Share Secured Loans are a great way to build credit, or unlock your CD or savings into a low cost loan
Use your Share Savings or CD account as collateral, and build your credit as you make monthly payments.

Low Rate Loan
Using your
Share Savings
,
Money Market
or
CD
account as collateral, we are often able to offer you lower loan rates than an unsecured loan.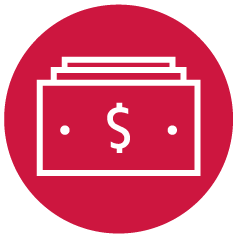 Build Your Credit
Looking to give your credit a boost? As you make monthly payments on your loan, your credit score could start to improve. 
Benefits of a Share Secured Loan
Share Secured Loans are relatively easy to obtain because you are offering collateral to secure the loan. One of the biggest advantages of this type of loan is that you can restore your credit with less stress or risk. 
Share Secured Loan benefits:
Quick and easy loan approval process
Competitive interest rates
Flexible terms
Easy repayment options
Higher loan limits
Build your credit as you pay back the loan
Available for CD, Money Market or Savings Share Accounts
How Share Secured Loans Work
With a Share Secured Loan, you borrow against the money in your Share Account. As you make the monthly payments on the loan, your credit score could improve. The loan is secured by your savings account, share certificate account, or money market Share Account.
While you're paying on your Share Secured Loan, the collateral in your Share Account is in a hold status. Once you pay off the loan, your collateral funds are released for your use. 
The interest on Share Secured Loans is extremely low. Since your Share Account earns interest or dividends, the actual cost to borrow with a Share Secured Loan is minimal. 
Who Are Share Secured Loans Good For?
While there are a variety of reasons Share Secured Loans are the right choice, there are a number of factors that make someone a good candidate for this type of loan.
You might be a good candidate if:
You are looking to build their credit
You are interested in saving for future loans
You want to protect you savings
Ways to Use a Share Secured Loan
Share secured loans can be used however you'd like, but it's smart to use the loan as a necessity or way to pay less interest on existing debt.
Some common ways to use them include:
Home repairs or renovations
Medical expenses
Debt consolidation
College tuition
Unexpected expenses
Start off with an estimated rate quote – No credit pull required
Fill out the short form below to hear from a Loan Officer within the next business day.
Securing your loan is easy and can be started online or over the phone. Apply today.
Apply Online
Call us at 281.754.1470 to ask questions or start a loan application by phone.
Apply in a Branch
To apply in branch, visit a branch near you.
FAQs about Share Secured Loans
How much can I borrow with a Share Secured Loan?
You can borrow up to 100% of the available funds in your share secured account or 90% of the CD balance for a CD Secured Loan.
What is the interest rate for your Share Secured Loans?
The interest rate on the Share Secured Signature Loan is variable and the Share rate + 3.00%. The interest rate for the CD Secured Loan is fixed Rate + 2.50%.
How long can I borrow the money with a Share Secured Loan?
You can borrow for up to 120 months with the Share Secured Signature Loan and up to 60-months or the remaining term for CD Secured Loans.
How quickly will my credit improve with a Share Secured Loan?
According to the credit reporting agency Experian,
payments are usually reported
once every 30 to 45 days. From there the three national credit reporting agencies (Experian, Equifax, and TransUnion) update credit scores.
When will the funds used as collateral be available again?
Funds will be frozen until a predetermined amount has been paid on the loan. Your shares will continue to earn dividends while your funds are frozen.
Disclosures
If not currently a Members Choice member, a $5 deposit is needed to establish membership. All memberships are subject to approval including credit approval.